Our Products
ALC LIGHTWEIGHT PANEL
Besta ALC Panel is a sustainable green building material for simple and effective construction. The dimensions of a Panel is far greater than that of a block with the objective of cutting down construction activities at work site. The joints of Besta ALC Panel are more secure and watertight owing to their tongue and groove design.
There are many makes of Lightweight Panel from different manufacturers. Lightweight panels may all appear similar to the uninformed. However, Panel should be chosen based on project requirements, features and properties. Prices differ from brand to brand and are determined by factors such as density, important characteristics and features that may be proprietary (e.g., panel joint design and embedded stiffeners, etc.) and the country of origin.
Technical Properties
Density
750 kg/m3
Compressive strength
4.0 N/mm2
Fire-resistance
Up to 240 mins
 Acoustics
Up to 46dB Transmission Loss
Recyclable
Yes
Dimensions
50mm thick
75mm thick
100mm thick
125 / 150 / 200mm thick

x 600mm (max) x 2,000mm (max)
x 600mm (max) x 3,000mm (max)
x 600mm (max) x 4,000mm (max)
x 600mm (max) x 5,000mm (max)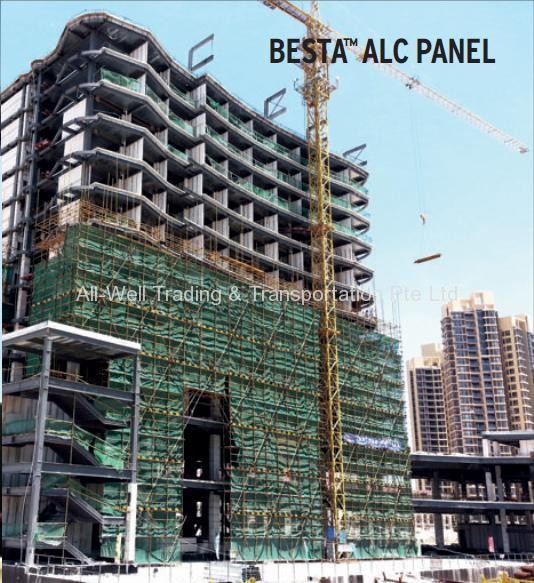 Core Features
Produced with Precision : Dimensional Tolerance of 1.0mm for length, height and width.

Dry Construction: Unlike masonry and bricks, panel installation is a continuous and dry process where special adhesive, plastering putty, skim coating and painting can be directly applied over dry lightweight panels.

Fire-resistance : Besta ALC Panel serves as an ideal Class A fireproof construction material that resists and prevents the spread of fire. Made from inorganic and non-combustible material, it does not release smoke and toxic gases when exposed to fire. Besta ALC Panel is thus safer, more economical and reliable compared to traditional forms of building materials and systems.